Have you ever discovered a platform for guest posting business on which you get sales within a few days or weeks?
Absolutely not! I think.
GBOBER is an app that makes your journey to success fast in GBOB freelancing. It helps you in many ways to manage your guest blog outreach campaigns by gathering contacts and SEO matrics of websites and many more.
GBOB stands for Guest Blog Outreach Business, also called Guest Post Outreach Business. This is a part of Off-page SEO which is an important factor in the SEO checklist. Although hundreds of thousands of people earn money online through guest posting businesses by selling guest post backlinks, This skill has been launched by Shahzad Ahmad in Pakistan with a new term called GBOB. He started this GBOB course, and a lot of people are learning this skill and earning revenue by practicing this freelancing business. It's rapidly growing in Pakistan. 
What Exactly Is The GBOBER App?
GBOBER is a platform that makes it easier for guest post outreach businesses (GBOBs) to reach out to bloggers, influencers, and clients. Here, thousands of websites are available with updated stats like Domain Rating (DR), Domain Authority (DA), Trust Flow (TF), and Traffic. Because GBOBER is linked to the AHREFs API, you don't need to do manual updates of sites' metrics using SEO tools.
Freelancers have liberty when it comes to importing and managing their client and vendor lists into the GBOBER App. Besides, it provides its users with several email templates to contact vendor and client websites for making deals and getting sales. You can also get contact information for websites to outreach on. These features make GBOBER the perfect app for making GBOB freelancing easier and faster. This app is being used to help people scale their guest post outreach business.
How Does GBOBER Work?
To use the GBOBER, you need to create an account or register at gbober.com. When you sign into the GBOBER app, you will get into an interface or dashboard. In this area, you will see the number of vendor and client websites as shown in the following image.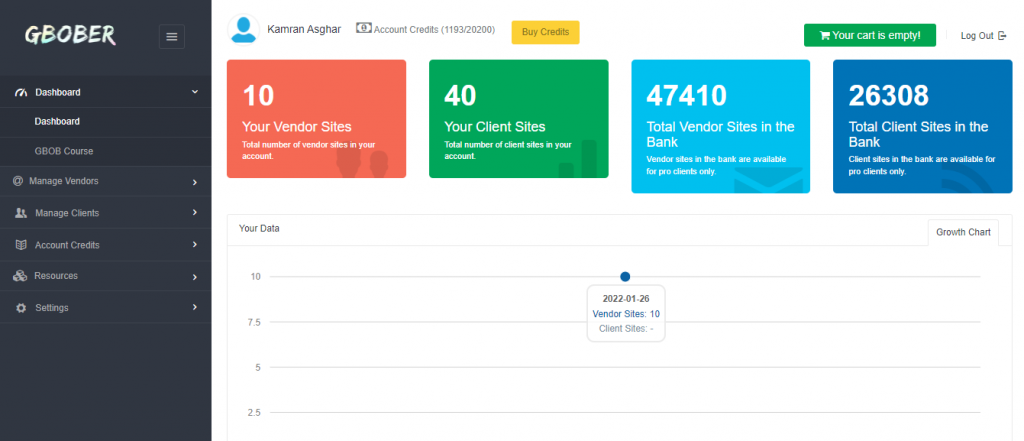 All the websites have been searched through different crawlers and checked their SEO matrics like (DA) Domain Authority, (DR) Domain Rating, (TF) Trust flow, and monthly traffic. This SEO data is continuously updated as the app is linked with SEO tools like Ahrefs and Moz.
Moreover, websites' categories, email contacts, and contact pages are grabbed by using different resources like hunter.ai and others. That means all their databanks, both client and vendor sites, are authentic and reliable.
How To Use It For GBOB Freelancing?
If anyone wants to connect with vendor sites, then in the vendor databank, after grabbing their information, they can easily outreach them and make deals with the required vendors. After making deals, note the rates in your vendor sheets for those specific vendors.
Now let's go to the client section to make sales. Go to Client Databank. These are websites that need guest posts with backlinks to build authority. You can sell your guest posts to the clients of those vendors with whom you have made deals. They may be your potential customers or clients. Just offer them your attractive deals for guest posting, get orders, and publish them on vendor sites to earn profit.
In short, GBOBER gives you a readymade list of vendor and client sites of your choice with all the SEO metrics and contact information. You just have to import them by using GBOBER credits.

What are GBOBER Credits and Where to Buy?
GBOBER Credit is a digital currency in GBOBER used to purchase or import websites' data. These credits are built for its customers to make a unique list of website data for each one. You can buy these credits only from GBOBER's recommended dealer and expert, Kamran Asghar. He is not only selling these credits but also helping GBOB students grow their freelancing businesses.
Managing Vendor and Client Sheets
Apart from credits, GBOBER offers free features like building and managing client and vendor sheets and email templates. So you can independently work as GBOB freelancers.
If you have already created your sheets, either vendor or client, in Google Sheets, you can import those into the GBOBER App in seconds.
But why do you need to do this?
Updating websites' SEO matrics from time to time is a big task and time-consuming. GBOBER gives you an opportunity to keep your data updated all the time. All the websites that are common with the GBOBER databank will be updated because this app is linked with Ahrefs' API. So you no longer need to update your sites' stats manually as you were doing in Google Sheets.
The GBOBER App's Key Features
What will you get here? Some of the key benefits are listed below, which make GBOBER the ultimate choice.
A massive database of over 75,000 websites with SEO matrices and contact information.
New sites are being updated and their mission is to reach millions of websites' records.
The websites of about every niche and category are available, so you can filter out the ones that meet your niche's requirements.
You can add your website's data and upload and also manage your own created vendor and client sheets easily and efficiently.
The data you get from GBOBER's databank will be added automatically to your list and be updated.
You can select vendors as well as clients' sites as per your choice with credits.
Each user will get mostly different websites, with a minimum of identical sites for every user. That means the competition will be lower and there will be more chances for every user to get clients.
The websites' data will remain with you for a lifetime and you will not need to buy it again.
What is the Mission of GBOBER?
Although a variety of features are available in the GBOBER App, the company still has a goal of facilitating its users the most.
But how?
Right now, you can explore websites' records to grow your GBOB freelancing. They are planning to launch this platform internationally very soon. So they can attract foreign clients who want guest posting backlinks for their businesses. For that, GBOBER will add its premium feature, through which clients will directly contact resellers or guest post providers and give orders. When this happens, then GBOB freelancers will not need to manually outreach clients.
The company's first mission is to increase its databank records by 1 million. Several other features and packages will be launched soon, as per Shahzad Ahmad Mirza, the owner of Designsvalley.
I hope you enjoyed this article and if you are interested in making money online through GBOB freelancing, don't forget to be a part of GBOBER for an easy and fast win in your business.