Fiverr is a marketplace where anyone can sell their services as a freelancer. The company has over 5 million registered members from around the globe. Fiverr affiliate program allows you to promote the network and services and earn commissions through referrals.
Fiverr was launched in early 2010 and has since become one of the largest freelance platforms in the world. Sellers offer anything from graphic design to writing to programming. They also provide translation services, voiceovers, music production, video editing, web development, SEO, social media management, etc.
There are two ways to earn money using Fiverr. One way is to create a profile and start selling your services. Another option is to earn commissions by referring new customers or selling other people's gigs. This means promoting someone else's service on your page or sharing links to their profiles.
So if you don't have any skills to sell here, then you can join the Fiverr affiliate program without having a website, which is required by most affiliate programs.
In this article, we'll go through the sign-up and promotion process, including how to get started promoting Fiverr. We'll also cover what the program offers and how to maximize your earnings.
How to Join Fiverr's Affiliate Program?
The Fiverr affiliate program allows sellers to generate revenue by promoting products and services offered on the platform. To start earning online with affiliate marketing on Fiverr, you first need to create an account as an affiliate. This account is different from your Fiverr account that you use for buying or selling.
You can do this by clicking here "Join Fiverr Affiliate". Now let's learn how to sign up:
Fiverr Affiliate Sign-up Page
The Sign-up process for joining their affiliate program is pretty simple and easy. It takes less than 5 minutes. You don't even have to do anything special to join. Just follow the instructions below.
After clicking you'll be viewed the affiliate sign-up page where you just have to fill in the form with details like email, username, and password and click 'Next'.
Tell us About Yourself
Here on Fiverr, it asks you about 2 things:
How do you plan to promote Fiverr services
What's your audience's interest
It's better to check in on all the options listed here because it doesn't matter what you choose. But you'll have the liberty to promote any product or service in this program, and Fiverr will not send you any promotional material related to these options.
Finally, make sure that you check off the box that says "I agree to the terms and conditions."

Now click on the ' Register Now' button. That's it. You're now an affiliate partner with Fiverr and the most exciting part is that they don't have an approval process.
You can now sign in to your affiliate account and start promoting their services right away.
Fiverr Affiliate Program Overview
Fiverr is a platform where people are registered to buy or sell digital services and products. As far as its affiliate program is concerned, this isn't like other programs which give you a commission on promoting offers to anyone. Here, you'll only get a commission if the user is a first-time buyer, and FTBs means those who have no account on Fiverr, either buying or selling.
That means if you promote its affiliate offers to your audience and they click and get that offer with your reference, Fiverr will not pay a commission to you if the buyer is already a Fiverr member. That's the biggest flaw in their program and it's disgusting for affiliate marketers.
Fiverr Cookies period For Affiliate Commission
The best part of this program is that all the affiliate links you promote have a tracking cookie period of 12 months for eligible commission. That means if someone clicks on your link, the tracking cookies are saved in the user's system and will remain effective till he makes a purchase within 12 months. You'll get your commission for that order.
Wider Audience Across the World
This program allows you to share your affiliate links with people living in 160 countries around the world. You will be paid a commission if buyers are from approved countries on the list. So a wider audience is still in your target as an affiliate to which Fiverr's offers can be presented to motivate them to buy and earn revenue.
How to Promote Fiverr?
Affiliates can use deep links to promote Fiverr services and products directly to improve their affiliate sales. For this, Fiverr gives you a dashboard where you can manage your affiliate deep links for any product available on the platform.
In the marketing tools section, click on the default and deep links. Every affiliate gets its default deep links for different offers. Further, click on the LP URL and paste the link of any Fiverr service you want to promote. You'll get your deep link for that specific service directly as shown in the image. That's it. Now you just need to share it with your audience so they can buy it and you earn your commission.
How to Withdraw Fiverr Affiliate Commissions?
Fiverr pays you a commission once per month, but only if your affiliate earnings reach the minimum level of $100. The platform pays your earned commission into your bank account or Paypal.
What is the Fiverr Commission Plan?
The Fiverr commission plan is pretty simple. It is based on how much money each customer spends. However, there are some limitations on what you can do with this type of plan.
You qualify for the affiliate commission only if your referral or buyer has not already registered on Fiverr. That would be considered a first-time buyer (FTB), and you'll get a commission only if the first-time buyers (FTBs) click on your link and get the services.
The company has a strong CPA (Cost per Acquisition) commission structure. Their commission plans are based on three types given below:
Cost Per Sale
Cost Per Action
Cost Per Revenue
To find out what type of plan suits you best, let's review it in detail here. Where you will see a list of all the plans along with their pros and cons.
Types of Fiverr Affiliates Commission Plans
Fiverr offers three different kinds of commission plans. You can choose one according to your needs. Let's discuss each of them in detail: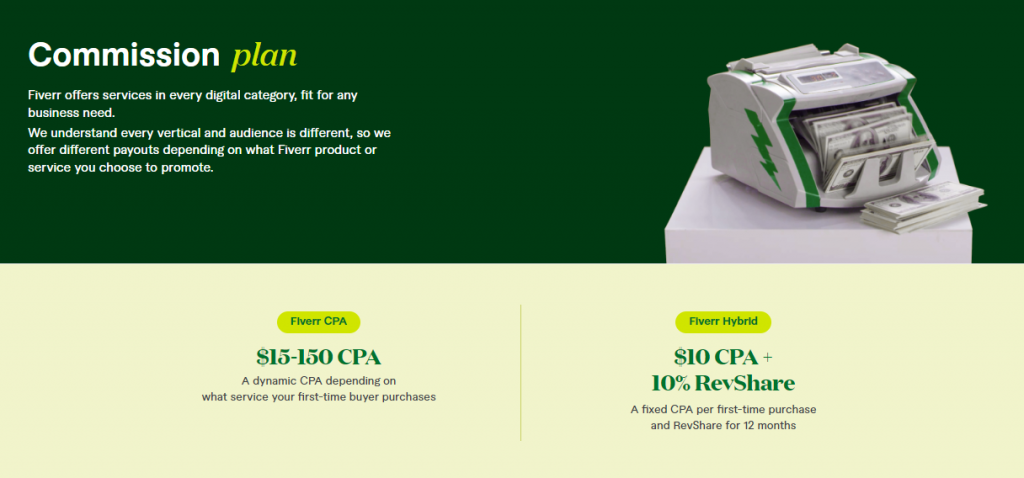 1. CPA Commission
This is the most popular type of commission plan offered by Fiverr. It is also known as pay-per-action. You get paid when someone creates a new account and purchases anything as an FTB through your referral link.
It has a dynamic commission plan where you can earn commissions from $15 to $50 depending on what kind of services your FTB buys from. For example, if one of your referrals purchases the Fiverr Pro service, you will be paid $150.
2. Hybrid Commission
This plan is a combination of both CPA and revenue share. In hybrid commission, you get $10 CPA plus a 10% revenue share of the net deposit. That means you earn commission in two ways: a fixed CPA per first-time purchase and a rev share for 12 months for every FTB sale. If your referral customers buy more services, you will get a rev share on each order for 1 year. That's the way you get a recurring commission.
Although the CPA and revenue share percentage are lower than other packages, they have no limitations and you can earn an infinite commission for one year.
This plan is for Fiverr Learn and workspace promotions. If you promote these services, you will get a commission of 30% and 50% of the net deposit for that service, respectively, on every referral sale.
How Much Commission You Earn On Each Type Of Service?
The amount of commission you can earn is totally dependent on the types of services you promote. Let's find out how much commission Fiverr offers on its services, so we can decide which is most suitable for us to select.
1. Fiverr
This is the primary Fiverr marketplace where freelancers offer their skills for sale and individuals or companies buy these services. These services range from writing, design, marketing, web development, social media management, videography, photography, music production, editing, etc.
The price range varies depending on the skill level and experience of the worker.
In this plan, the commission rates vary from $15 to $50 depending on what kind of digital services you offer through your affiliate links.
For example,
E-Commerce Development, Data Science, Mobile Apps, Industrial, and Product Design – $50
Web Design & Programming, Website Builders & CMS, Game Development, Architecture & Interior Design, Lyric & Music Videos, and Data Processing – $40
Logo Maker, SEO, Proofreading & Editing, Research & Summaries, E-Commerce Product Videos, 3D Product Animation, Producers & Composers, T-Shirts & Merchandise, Business, and Financial Consulting – $30
Articles & Blog Posts, Video Marketing, Social Media Marketing, Resume Writing, Voice Over, Short Video Ads, Illustration, and Gaming – $25
All Other Categories – $15
2. Fiverr Pro
The original Fiverr is one of the most popular freelancing platforms. But now there's a pro version of it called Fiverr Pro. This is an exclusive solution for professionals looking to make money online. Only those approved by the platform can sell their services on it. And since only high-rated professionals can get accepted here, you can generally expect to pay more for the same service.
For example, the minimum price for a Fiverr Pro gig is $100. This is about twice as much as what you'd find on Fiverr itself. This means you won't find low-quality gigs like those found on the original Fiverr.
They offer a commission rate of $150 to affiliates for all Fiverr Pro services.
3. Learn From Fiverr
Fiverr Academy is a place where freelancers can learn how to improve their skills and grow their businesses. There are courses on everything from digital marketing to graphic design to writing. While most of the courses focus on freelance work, there are some courses that teach people how to build their own online businesses.
People who are already on the platform can take these courses to polish their skills. Each course includes lessons, assignments, quizzes, and projects. Students can pay via credit card or PayPal. Most students receive a certificate upon completion.
Fiverr affiliates can earn a commission of $30 on every course order sale.
4. AND.CO
Fiverr announced it has acquired AND.CO software, a startup focused on helping freelance professionals find work and grow their businesses. Founded in 2012 by brothers Arnaud and Olivier de Boulogne, AND.CO offers a web app designed to help freelancers organize their projects, keep track of time spent working on each project, and manage invoices.
The acquisition adds another tool to Fiverr's arsenal, one that could potentially increase the number of people looking to hire freelancers.
In addition to adding AND.CO's technology to Fiverr, the companies are also integrating the team behind AND.CO into Fiverr's development teams.
The commission rate is $30 for every AND.CO pro plan sale.
How to Make Money With the Fiverr Affiliate Program
The Fiverr affiliate program is one of the most popular programs out there. If you're looking to start making some extra cash online, it might be worth checking out. And while it's true that you won't earn much per sale, the number of sales you generate can add up over time.
Here's how to use the program effectively:
Choose a niche you know well. You'll want to choose something that interests you enough to keep coming back to it regularly but isn't too competitive that people already know everything about it.
Find a product or service you'd like to sell. There are many different products and services on Fiverr, so don't worry about finding a specific one. Instead, focus on creating high-quality content on your blog website around a topic you're passionate about. Besides you can do affiliate marketing on youtube as well.
Write a detailed description of what you're offering. This is where you give your audience all the information they need to decide whether or not they want to buy from you.
Add a link to your listing on your site. When someone follows your link, they'll come to the Fiverr service or product you recommended. From there, they can see what you've listed and place an order.
Market your listings as widely as possible. Share your posts on social media sites such as Facebook and Twitter. Tell your friends about your work and ask them to spread the word.
The Pros & Cons Of Using Fiverr For Affiliate Marketing
Fiverr is one of those things you either love or hate. If you are looking to make some extra money online, there is no better way to do it than via affiliate marketing. However, there are some advantages and disadvantages to this Fiverr affiliate marketing program.
Pros:
Fiverr is one of the most popular platforms for freelancers around the world. In fact, it's a global marketplace where people buy and sell anything you can imagine.
There are many reasons why people love Fiverr. Here are just a few of the benefits:
Fiverr is your one-stop platform to offer almost all kinds of digital services online to your audience. So it's a great opportunity for affiliate marketers to earn revenue by promoting their services to buyers.
You can share both high-ticket affiliate services on Fiverr Pro and some selected original Fiverr services.
The cookie period for all Fiverr offers is up to 12-month which is rare in any affiliate marketing program.
It is possible to generate deep links for any Fiverr commission plan for any service and promote them as needed.
You can create customized deep links for any service available on the platform and promote it.
Fiverr affiliates can start earning money within 24 hours after signing up.
You can easily manage multiple projects at once.
It's easy to set up payment options, and the minimum payout is $100.
You can quickly reach customers from all over the globe.
You can keep track of your earnings in real-time.
You can work from anywhere in the world.
Cons:
While Fiverr has tons of pros, there are still cons associated with using this platform. Here they are:
The biggest drawback of this program is that you'll not get a commission if the buyer already has an account on Fiverr. Affiliates get a commission only on first-time buyers.
The maximum commission an affiliate can earn per order on this platform is $150, even if a buyer purchases a service worth $8,000.
Many people post low-quality work on Fiverr, and some don't deliver on their promises. As a result, you must exercise caution when selecting a service in order to maintain your audience's trust and authority. You need to promote the highest quality professional gigs.
Why am I glad I signed up for Fiverr Affiliates?
I had been looking for a way to earn some extra cash online and came across Fiverr Affiliate. I thought it might be something fun to try out. So, I registered and began promoting the best freelancers' services. I found that there are many people willing to pay for quality work.
In fact, my best seller is still selling today. I never expected to sell anything like that, but I do enjoy working with people. I love being able to help others and seeing how happy they are when they receive their product.
The best part about the Fiverr affiliate program is that you don't have to spend much time doing it. All you have to do is upload a video on YouTube or write a blog post. When someone clicks on your affiliate link and buys that service, you will get paid a commission. If you want to make passive income with it, then you have to actively promote Fiverr's best services.
You can use your affiliate link to promote any product or service you want. The key is to choose a niche that you know well so that you can provide great content. You should also pick a product that you would buy yourself if you were planning to purchase it anyway.
Fiverr is one of those sites where you can earn a passive income without having to spend too much time working. If you are looking for ways to make money online, this is definitely something worth checking out.
Go ahead and click here to register for FIVERR today!